The Chef of your restaurant with an ocean view reveals his cooking secrets
Under the warm sun of the Basque Country, in a panoramic restaurant with a view of the Atlantic Ocean, travellers can taste the recipes prepared by the chef of the Grand Large Emmanuel Biot. In the room, where the guests are greeted by the lively butler Daniel, everyone gathers around his table to enjoy a gourmet moment.
Recipes inspired by the terroir and Basque tradition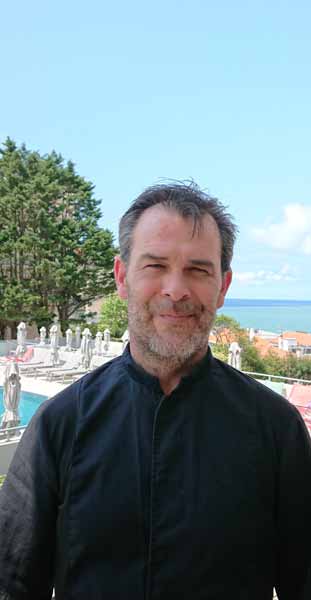 For me, cooking is a love story: for good products, of course, but also for people and their know-how.
(Emmanuel, Chef at the Grand Large)
Emmanuel is a proud Basque from his region who likes to create meals inspired by traditional recipes. What interests him is to create emotion and tickle the senses.
You can't be a chef if you don't like other people.
(Emmanuel, Chef at the Grand Large)
Work with local products to offer a delicious cuisine
Every day, guests of the Grand Large restaurant can enjoy the dish of the day or a selection of gourmet recipes on offer: prawns, suckling pig, fish of the day, piperade… if you hesitate, ask the maître d'hôtel for some advice !
Cooking is about taste, flavours, colour, you must want to eat.
(Emmanuel, Chef at the Grand Large)
Enjoy a gourmet cuisine with an exceptional panoramic view
From any table in our restaurant, you can enjoy a breathtaking panoramic view of the Atlantic Ocean and the large beach of Biarritz, something to please the eyes as much as the taste buds !
The Chef gives you his recipe for Axoa de veau
While waiting for you to come to Biarritz to taste the dishes concocted by our chef, we deliver you his recipe for Axoa de veau, to be shared in good company !
AXOA DE VEAU (for 6 people)
Ingrédients :
1 kg of veal shoulder
12 sweet green peppers from the country
3 red peppers
1 large onion
1 clove garlic
3 cl olive oil
6 pinches of fine salt
6 pinches of Espelette chilli pepper
Préparation :
Cut the meat into thin strips and chop it with a knife. Then wash the peppers and red eppers, then split them lengthwise. They will have to be seeded and cut into small pieces. Peel and slice the onions.
Heating the oil over medium heat, then fry the veal for 2 minutes.
Once the meat is well coloured, add the onions, peppers and red peppers, then the Espelette pepper, then salt and wet the veal stock.
Cover and simmer for 25 to 30 minutes. Check the meat regularly: it must remain very tender. If necessary, adjust the seasoning.
Once the preparation is finished, reserve the veal with rice or fried potatoes.
BON APPÉTIT !